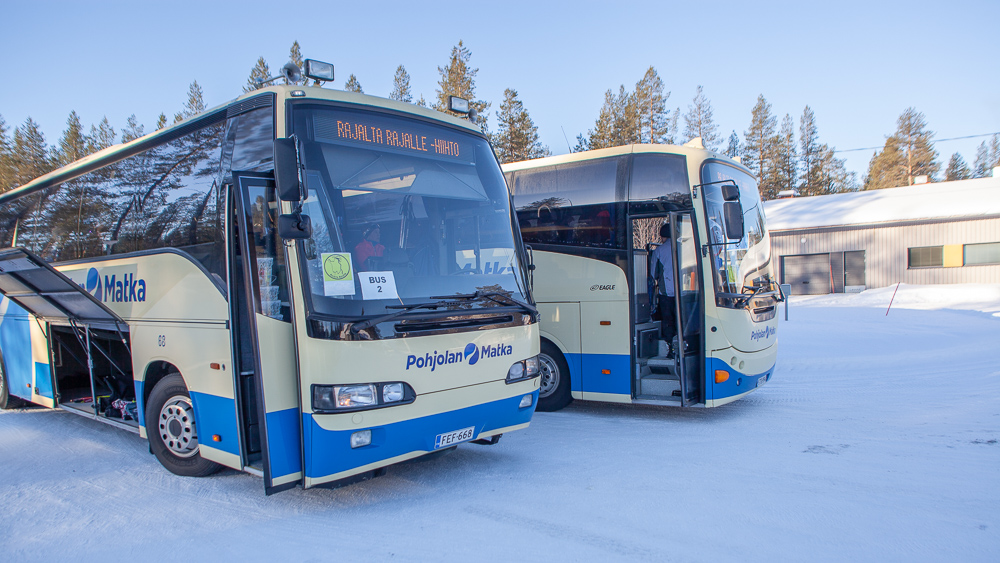 How to reach Kuusamo?
It is possible to travel to Kuusamo by plane, bus, car, train or combination of these. The Border to Border ski starts from Kuusamo and ends in Tornio. The bus transportation on the last day to Kemi railway station, Kemi airport, Oulu railway station, Oulu airport and Kuusamo airport is included in the total price. PLEASE NOTICE that on the last day you may book your flights/other transportation from Kemi at 9.00, from Oulu at 11.00 and from Kuusamo at 15.00.
By plane
There is an airport in Kuusamo and in Oulu. You may fly there with direct flights from Helsinki. Check for example Finnair's and Norwegian's flights.
By bus
You can travel to Kuusamo by bus from all over the Finland. If you are coming from Oulu, hop on a bus of company called "Pohjolan matkat". Those buses will take you to the doorstep of Oivanki with 5€ extra cost. Check the timetable.
By train
If you prefer train, you can take a train from Helsinki to Oulu. From Oulu you can travel to Kuusamo by bus. With night train, you will not even notice the time! Check the timetable.
By car
You can also travel to Oivanki by car. If you drive to Kuusamo by car, you can leave the car on the parking of Oivanki until you return.
Transportation during the holiday
There will be a bus available and it will follow the skiers the whole week. It is possible to leave there all the extra equipment you don't need while skiing. During the ski, the bus will be available for the skiiers at least once a day.