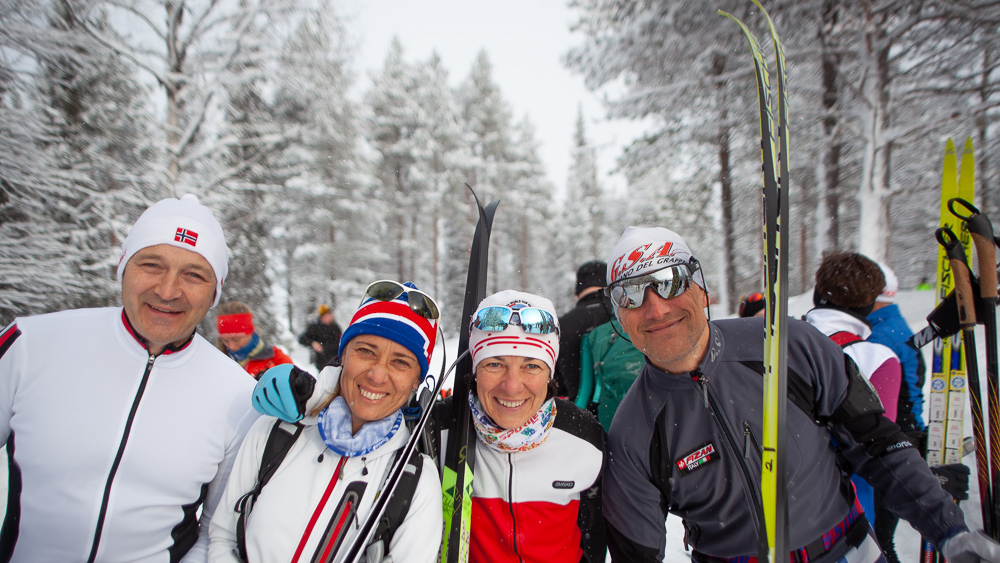 Ski, sleep and eat!
Border to Border ski takes nine days in total including the traveling days. During this time, the skier needs to take care only about three things: skiing, sleeping and eating. We warmly welcome you to this unforgettable journey where all the stress disappears!
Border to Border organization takes care of all meals, accommodation and transportation during the trip. There are two to seven service points with snacks and drinks and one lunch during a skiing day. We serve dinner, breakfast, evening snacks and a snack back at the accommodations. There is also a sauna in every accommodation. The bravest try ice swimming in Oivanki, Kuusamo!
After the last skier, there is always a snowmobile to secure your safety. The snowmobile drivers help you with any kind of problems during your ski. Moreover, there are excellent guides to help you!
NOTICE! The organization has not insured the skiers. We highly recommend skiers to take an insurance which covers also the participation fee in case of cancellation.
Gathering
On the eve of the first day of skiing, all skiers will gather to the Oivanki in Kuusamo (RR1 on Wednesday 6.3.2024, RR2 on Thursday 7.3.2024, RR3 on Friday 8.3.2024 and RR4 on Saturday 9.3.2024). At the information session in the evening, you will receive instructions and tips for the upcoming ski week. At the same time, you can start getting to know your future skiing buddies! Skiers are served dinner and evening snack.
You can book accommodation in Oivanki even before the official program, if you want to get a feel for your skis in advance!
1st Skiing day
The first day of skiing starts with a hearty breakfast after enjoying Lake Suorajärvi, about 20 km from the Russian border. Day's skiing is about 33km and it will end to Ruka, the accommodation is Scandic Rukahovi. The ski trip winds through Ruka's rugged landscape, where a hot soup lunch is also served.
2nd Skiing day
The second day of skiing is about 43 kilometers long and ends in Taivalkoski. Accommodation and meals are taken care of by Ruska, During the ski day you can enjoy beautiful natural landscapes and taste Särkelä's delicious salmon soup. In Taivalkoski, you can visit a shop and pharmacy, as they are only about 1.4 km away.
3rd Skiing day
The third day of skiing is 58 kilometers long. Many skiers find the scenery particularly beautiful on the third day of skiing, as the route partly winds through the Syöte National Park. However, the last kilometers do not let the skier go easy, as at the end there is a climb to the Pikku-Syöte fell hotel. Lunch is served in the wilderness scenery of Pirinlampi.

4th Skiing day
The fourth day of skiing measures the grit and fitness of a cross-country skier, as the total distance covered is a whopping 88kilometers. The skiing trip starts with a fast descent from Pikku-Syöte and ends with long swampy landscapes in Ranua. Stay overnight at Gasthaus Ranua in Ranua
5th Skiing day
The skiing day is 46 kilometers long, but after the last long day it can feel tough. On the fifth day of skiing, lunch is served at Ruona village hall/school. Accommodation is also arranged in Ruona that is legendary place among RR-skiers.
6th Skiing day
On the sixth day of skiing, the journey continues towards the Swedish border for a total of 60 kilometres. Lunch is served in Keminmaa. For accommodation, the group is transported to Kemi, where accommodation is provided in the nostalgic and cosy Hotel Merihovi. After the sauna and meals, a small restorative evening walk before the last day is probably in order.
7th Skiing day
On the seventh and also the last day of skiing, there are 55 kilometers left. There are snacks waiting at the finish line and a sauna at the hotel. The last night in Tornio is spent in traditional style at Park Hotel Tornio, where you can also enjoy a dinner together. After dinner, there will be an evening party where prizes will be handed out and performances by skiers will be seen.

Departure
Next morning after last skiing day, it's time to go home! Please remember that flights can be booked from Kemi at 9.00, from Oulu at 11.00 and from Kuusamo after 15.00 on the day of departure.